As a customer success manager at PaySimple, I get to help business owners overcome challenges every single day. It's why I love my job!
Another reason I love my job is because of the emphasis PaySimple places on volunteering in the community.
Every quarter, we dedicate a day to helping a charitable organization in the Denver community. The organizations we choose differ in their sizes, in their mission statements and in the causes they support—we simply look for one that has the mission of doing good right here in Denver.
In the past, we've volunteered at a children's hospital, done yard work in a Denver community garden and packed meals for Project Angel Heart.
My team and I love this quarterly event because the help that we provide truly flows both ways. There are benefits that come back to each of us on a personal level as well as to the organization.
I can only believe that these same benefits could be equally satisfying and beneficial for your business too.
Here are my top 4 reasons volunteering is good for mind, body and business:
1.   Healthier, happier individuals
There are many research studies that show that, in addition to the sense of accomplishment one feels when spending time volunteering, there are also psychological and physical health benefits. In a Carnegie Mellon study for instance, individuals who spent 200 hours volunteering each year had lower blood pressure. They also found that these people had lower instances of depression later in life, lower mortality rates, and greater functional ability.
2. Coworker bonding
Doing something altruistic, outside the pressure and tension of work can bring a surprising amount of positive energy back into the office. In my personal experience, knowing that my company and I are doing some good in our community in addition to in our workplace, has brought more meaning to my life. This shared experience is often followed by a strong positive outlook. And despite taking a day off from work in the office, our productivity and efficiency as a team always dramatically increases after a volunteer event.
3.   Company recognition within the community
In addition to the internal benefits volunteering provides, there is also the benefit of having your company recognized in the community. And this recognition often leads to more business opportunities. Customers are emotional creatures and will tend to purchase a product or a service not only based on need, but also on the good feelings they may have toward that brand.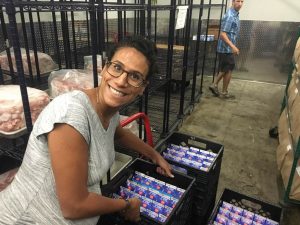 4. It feels good!
Being involved in charitable activities and knowing you are impacting someone is such a rewarding feeling. There is something special about participating in an organization or doing an activity which is working to do good. Helping to improve lives tends to ground you and places you in a better perspective
Sure, it's fun to spend time playing with friends or vegging out on the couch  to watch an episode of Seinfeld for the gazillionth time, but isn't it better to end the day knowing you did a little good in the world?
Start a 14 day Free Trial and streamline your business with PaySimple: