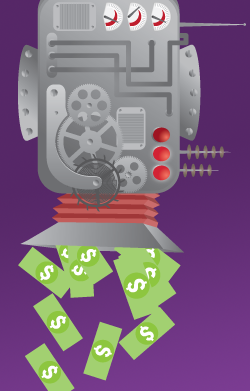 Technology has exponentially evolved the way nonprofit approach fundraising.  It reduces costs, speeds up productivity, expands their ability to reach new donors across the globe and enables smaller nonprofits to compete like large organizations.
Technology has also simplified the donation process, making it easier for nonprofits to accept donations online.  Enabling your donors to donate online has not only proven to increase donations;  80 percent of the biggest donors who donate $10,000 or more actually prefer to donate online, according to a report by Convio, Edge Research and the Sea Change Strategies.
But while technology has improved our ability to operate more efficiently, it can also overwhelm us with infinite options and possibilities. Knowing where to begin can stress business decision-makers out to the point that they can neglect opportunities.  Instead, some nonprofits will concentrate on one-off tactics and narrow strategies, without comprehending the full spectrum of operational strategies that can elevate their fundraising to the next level.
Concentrating solely on soliciting donations can be helpful.  But, if you incorporate that with improving donor acquisition, engaging with donors through social media, knowing when and where to cut costs, and understanding how to pull all these operational tasks into one cohesive business strategy, and you will truly maximize your ability to drive revenue and expand your donor outreach.
Kevin Brown, Vice President of Customer Acquisition for PaySimple, will host a webinar this Thursday, Feb. 16, that will teach nonprofits how to increase the number of donors, revenue and cost-efficiency – all while saving time.
Thursday's webinar will explain:
How to find and retain new donors
How to increase current donation levels
How to identify needless spending and cut costs
How to improve cash flow by getting donations faster
How to automate operational tasks to save time
Sign up today, and join Kevin on Thursday to learn how your nonprofit can take advantage of all the tactical opportunities, and incorporate them into one cohesive strategy that will turn your nonprofit into a donation-generating machine.