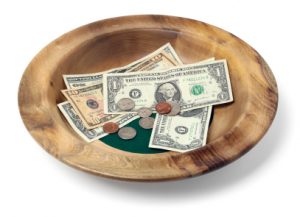 Church giving has fallen to its lowest point since the Great Depression.  But before psychoanalyzing the generosity of your parish, you should assess how your church accepts donations.
According to a recent book, "The State of Church Giving," church donations have dropped to just 2.4 percent of a donor's income.   If churches nationwide could raise that number six-and-a-half percentage points, they could increase their collective revenue by $172 billion.  So the inevitable question is: How?
The way you ask that question is important.  Don't ask yourself how you can convince people to donate, but ask yourself how you can make it more convenient for people to donate.  How do you accept donations from members, and how do your members carry the money you want them to donate?
Most churches pass around the Sunday collection plate.  People carrying cash will throw $5 or $10 in here and there.  And the very few who still carry checkbooks may write a generous donation.  But for the most part, people are carrying their money in the form of plastic, and you can't put that in a collection plate.
The question is figuring out how to enable church members to donate money with a credit card or debit card payment.  And the answer is by supplementing the old method of passing around the collection plate with online or even mobile donations.
This may sound like a new concept, but it has been tested by churches around the country.
"The minister will say, 'Normally I tell you to turn off your cell phone in church, but now you can turn it on' to pledge," said Douglas Plank, who has sponsored the testing of this concept several times as the CEO of MobileCause.
"People forget to bring their checkbooks, so using the phone makes sense," Plank said. "The ministries that have tested it see a 10% to 15% bump in giving when they do it."
This may also sound like an expensive concept.  But plenty of services exist online for less than $40 per month.  We don't want to sound like we're endorsing any one service, so do some online research and see what you can find.
So before giving up faith in humanity, consider the way your church accepts donations, and how that reconciles with the way modern society carries money.  Your Sunday church-goers may have forgotten their checkbook, but chances are they brought their credit cards and mobile devices.