Holiday shopping is in full swing now, and hopefully your small business got off to a great start over the after-Thanksgiving sale period. Even if you didn't, it's not too late to meet your holiday sales goals. (Check out recent tip post 5 Holiday Promotion Tips for Small Service Businesses, as well as the older The Small Business Guide to Holiday Sales and Promotions post for help if you're looking for strategies and ideas.)
Along with selling, now is the time to join the buying party and select the perfect present for everyone on your small business gift list. From employees, to customers, to vendors, service providers, investors, and promoters, a thoughtful (even if inexpensive) gift is a great way to say "Thank You!" for supporting your small business throughout the year. The following are some unique suggestions that will make your gift stand out from the crowd of generic food baskets and towers that are all too common this time of year.
Office Fun
PaySimple is a work-hard, play-hard environment and it shows in our office space. Our play room contains video games, foosball, and arcade basketball; and our workstation diversions range from yoga balls to action figures. While giving individual full size arcade games is an impractical office gift, try one of the following desktop diversions—perfect as a Secret Santa selection, or just a gift that says you support a workday sprinkled with fun.
Office Basketball
In honor of today being
World Trick Shot Day
let's begin with some office Hoops. (Yes that's a thing– created by the Harlem Globetrotters, they ask you to record a video of a trick shot and post it on social media using the hashtag,
#WorldTrickShotDay
. The Globetrotters will comment and review the videos on social media and give tickets to their 2017 World Tour for their favorites.)
Go deluxe with the Document Dunk trashcan stand ($24.95 at Amazon), or loud with the Cheering Basketball Hoop ($14.99 + shipping), or basic with the Doxieball hoop that clips to a trashcan ($5.99 at Amazon).

Alternately, for some desktop fun try this one or two player mini basketball arcade game ($18.19 at Amazon), a foldable metal desktop hoop with attached ball—a big plus for cluttered desks (lot of different versions out there, this one is $9.99 at Amazon), or a simple Basketball Desk Tidy with basket-shaped pen holder, whiteboard backboard, three basketball erasers and a dry-erase pen ($6.99 at Amazon).
Just Say No
The perils of saying "yes" too often are
well known
, but when asked to do something by the business owner, many employees hesitate to say "No." Show everyone that a reasonable "No" is acceptable with this
NO button
. It may also help them deal with co-workers, and be a subtle suggestion to responsibly manage their time. Alternately, go with a
Maybe button
, a
BS button
, or a
Blah, Blah, Blah button
. ($7.99 – $9.99 at Amazon)
Calendars
With smartphones, digital assistants, and shared online calendars, the old off-line paper calendar may seem boring and passé. However, add in a bit of entertainment and that calendar can go a long way towards adding some daily fun to the office routine. Try one of these:

There are those of us out there who just love bubble wrap—there's no logical explanation for it, just a perverse pleasure in popping—and the Bubble Wrap Calendar provides an excuse to pop every day—though no guarantees that a fanatic won't race through a week all at once! ($27 at uncommon goods)
For those who need more than a bubble paper pop to get their day off on the right foot, an inspirational saying may do the trick. Enter the Today – 2017 Daily Calendar by artist Matthew Hoffman. Each day features a unique phrase written in the artist's handwriting, and each day of the week is a different color. ($36.50 +shipping at You Are Beautiful—read their own inspirational story here.)
Another fun way to start the day is with a coloring day to day calendar. Try the basic Posh: Coloring 2017 Day-to-Day Calendar ($11 at Amazon), the elegant Johanna Basford 2017 Coloring Day-to-Day Calendar in its own keepsake box (shown-left, $12.49 at Amazon), the economical 2017 Keep Calm and Color On Boxed Calendar ($8.91 at Amazon), or the Color for Calm All Year Long 2017: Box Calendar which includes colored pencils in the base ($16.99 at Amazon). Alternately, for more tactile artist, consider the Easy Origami Fold-a-Day 2017 Calendar ($9.34 at Amazon).
And of course, a list of business calendar gifts would not be complete without the Dilbert 2017 Day-to-Day Calendar (Find it at Amazon for $11.84, and at just about any calendar shop.) What better way to start your day than with the antics of Dilbert, Wally, Alice, Dogbert and the Pointy-Haired Boss; and what better way to make your small business look like an awesome place to work!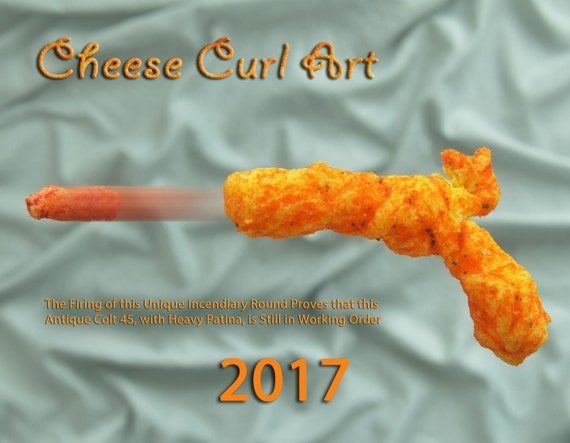 Finally, if you're looking for the truly bizarre choice for the person who has everything—guaranteed they won't have this: the 2017 Cheese Curl Art calendar. From the CheeseCurlArt shop on etsy, this calendar contains 13 original artistic cheese curl photographs. Support a fellow small business owner, and celebrate the cheese curl…can't beat that. ($30 – $32 with current free shipping offer)
Custom Sweet Treats
Moving from cheese curls to chocolate curls and other sweets, desserts can make great holiday gifts for individuals or large groups. However if you don't know someone well food can be a tricky gift as many people eat restricted diets these days — whether sugar free, fat free, gluten free, vegetarian, vegan, or paleo–and food allergies are on the rise. But, for those you know have a sweet tooth, it is always helpful to be able to customize a gift specifically for their tastes. I'm not talking about a wrapper with your logo here, or even your logo printed on a confection—that's so over. Now you can pick your own flavors, add-ins, and combinations to create a truly custom concocted and custom branded treat that will make any holiday party or customer gift truly memorable.
Custom Ice Cream
eCreamery
takes ice cream customization to the next level. You can pick 4 or 8 packs of pints in any of their current flavors of ice cream, gelato or sorbet and personalize the label on each one (i.e. Merry Christmas Joe or Sweet Regards from MyCompany), add your logo and message to single-serve size cups, or create your very own ice cream flavor. For the create-your-own option, you start with a base type; pick one of their 47 flavor bases from simple vanilla or chocolate to festive peppermint stick, exotic rosewater, spicy chocolate habanero, and everything in between; pick up to three fruit, nut, candy, and bakery mix-ins, then pick packaging type (4 pints, 8 pints, or 25 cups). Finally, pick a packaging style and enter 2 lines of custom text for you containers. Whether a completely custom flavor, or just a personalized package, the frozen treats are a perfect idea for an office party, and an impressive package to send to a customer. The minimum order is 4 pints which start at $60, 8 pints are a better deal at $100, and 24 cups start at $80. Shipping in dry ice starts at $14. For small orders of standard flavors check out the current half-price
Groupon
. For large orders with your logo, contact the
eCreamery Gift Concierge
.
Custom Chocolate Bars
If ice cream isn't your thing, consider customizing your own chocolate bars. Luckily the cold weather in December makes the holidays an ideal time for this type of gift. At
Chocomize
you can customize your very own chocolate combinations—one bar at a time. There is no minimum order, so you can create one bar for Suzie the milk chocolate maven who hates nuts, another for John who likes his candy dark and his mix-ins spicy, and another for Sally who swoons over Belgian white with a touch of fruit and a sprinkling of bacon. For a truly classy gift, you can even cover your bars with 23k gold flake; and there are message plates perfect for any holiday wish. Custom bars start at $6, and go up depending on the number (up to 5) and cost of add-ins. Shipping in the US is free for orders over $40.
Custom Protein Bars
For a healthier option, consider custom protein bars. With
Youbar
you can create a bar that fits a gift recipient's lifestyle and taste. Begin by picking a lifestyle profile for your bar (fitness & weight loss, on the go, natural & organic), then pick nutrition requirements such as low sugar, high fiber, or gluten free, then pick a protein source (whey, vegan (pea), or none), a binder (almond or cashew butter), a sweetener (stevia, agave, or coconut nectar), and a flavor pack such as lemon cookie, green superfood, or chocolate lovers. When you're satisfied, name your bar and order (in boxes of 1 dozen). One nice feature is a nutrition facts label that lets you see the impact of your choices on your fat, sugar, and calorie intake as you build. Custom YouBars start at $35.88/dozen + shipping. If you want this to be an ongoing gift or office treat, you can create a subscription that ships your custom creation (at a discount) every 1, 2, or 3 weeks or months.
Custom Cookies
OK, enough with the health stuff and back to the sweet—with your custom configured
Stuffed
cookie. Create custom stuffed cookie combinations by the dozen that are sure to please your team and your customers. After all, what says "thank you for your business" better than a dozen Red Velvet cookies stuffed with caramel, studded with white chocolate chips, marshmallows, and cashews, and dusted with powdered sugar; and what team wouldn't feel appreciated with a dozen chocolate cookies stuffed with cookie butter cocoa swirl, topped with M&Ms, chocolate sprinkles, and Cocoa Puffs, and dusted with sugar. You could go classy with vanilla cookies stuffed with raspberry preserves, flavored with rosemary, lemon, and orange zest, and dusted with sea salt; or whole hog with pumpkin spice cookies stuffed with cream cheese frosting, topped with heath bar, honey oats, and bourbon candied bacon, and dusted with cinnamon. A dozen custom cookies starts at $29 and goes up based on the add-ins selected; shipping starts at $11.95.
Custom Donuts
Mmmm…Donuts! What list of sweets would be complete without donuts? Certainly not this one.
BuildDonuts.com
is an online donut creation tool that enables you to customize the glaze and up to 3 toppings on a dozen large tasty donuts. With the tool you can make your selections and see them populate your virtual donut. The minimum order is 12 for $30 + $11.98 shipping, and each donut in your order can be individually customized. One caveat—the donuts do not come pre-assembled, so your recipient will need to spread on the glaze and sprinkle on the toppings after (ideally) popping the donut in the microwave for a few seconds. But, that can be part of the fun, particularly with a large assortment of glazes and toppings.
Technology Big and Small
Time was when a tech gift was the most expensive thing under the tree (dating myself a bit here), but these days amazing technology comes with very reasonable price tags; though the very latest and greatest for the early adopters on your list may still be costly. The following picks help you choose a tech gift across price ranges:
From the Wired list of 21 Amazing Gifts under$25, Anchor SoundSync is a simple way to provide a Bluetooth connection in older cars without built-in Bluetooth. Simply plug it into the Aux jack, and you have music and hands-free calling. Wired notes that it, "even puts some simple playback controls right at eye level. It's not pretty, but it makes a long commute a lot better." $21.99 at Amazon.
On the other side of the Wired spectrum, 12 Futuristic Gifts for the Early Adopter includes such extravagances as a $300k autonomous aerial vehicle, a $55k pair of Sennheiser Orpheus Headphones, and a $1.5m 3-D printer. The list also includes the more obtainable Plum Wine Appliance. Ideal for the oenophile on your list, the web-connected Plum scans the label on any bottle you insert, sets the ideal temperature, uses an argon-emitting needle to drill the cork and dispense the wine a glass at a time. Not only will it keep a bottle fresh for 90 day, it will display the details it retrieves about the wine on its integrated touchscreen. ($1499 from the manufacturer.)
Returning to reality, CNET's list of tech Stocking Stuffers includes the Divoom Voombox Travel 3 portable, rechargeable Bluetooth speaker. Simply hook this palm-size speaker to a backpack, purse, bike, jacket, etc. and you get respectable sound quality for your music and hands-free phone operation. "Splash proof, drop proof and dirt proof, the solid built Travel with Silicon over mold and alloy frames can handle it all" according to the manufacturer. (Available in red or black from Amazon for $19.99.)
TechCrunch has a number of gift lists to help you pick the perfect gift for everyone from mom and dad, to geeks (of the male and female variety), gamers, and budding coders. Their 9 great gifts for your favorite 20-something list includes Snapchat Spectacles. These colorful glasses that record video directly to a Snapchat account are a fun choice for the social-media minded millennial in your office. (The list price is $129, but they are scarce this year. You can (overpay) and find them starting at $275 from third party Amazon sellers.)
The WSJ Best Tech Gifts of 2016 includes the perfect choice for that brown-thumb in your office—you know the one with the dead plants on the desk, or the one who is constantly asking co-workers to water plants for them. The Parrot Pot Planter is a smart flowerpot with a self-watering system and built-in sensors that monitor your plant for up to 30 days of perfect unattended watering and care that can also communicate specific plant care tips to you via a smartphone app. ($99 from the manufacturer.)
We began this tech list with Wired recommendations, so it is fitting that we end there too. The most modest item on the 12 Futuristic Gifts for the Early Adopter is the Satechi Type-C Pass-Through USB Hub. Perfect for a new MacBook owner suffering from port paucity, the Satechi is a Type-C pass through USB Hub from which you can charge your MacBook that also provides two USB 3.0 ports, an SD card slot, and a Micro SD card slot.($44.99 from Amazon in silver, gold, and rose gold.) Need more for the Mac-lovers in your office? Check out Wired's 21 Perfect Gifts For The Apple Addict.
There's Always Books
Non-fattening, hypoallergenic, and unlikely to offend–A thoughtfully chosen book can be the perfect gift that gracefully merges the line of personal and business. My gift suggestion posts have previously gone heavy on the best of business book lists. This time I refer you to just two:
Amazon's Best Business & Leadership Books of 2016 and The 7 Books That Explain 2016 from Inc.com contributing editor Geoffrey James which he believes, "provide perspective on a very strange year."
Plus these few individual suggestions:
Business Adventures by John Brooks is cited as a favorite business book by both Bill Gates and Warren Buffet. The book consists of 12 classic Wall Street Stores that Brooks originally published in The New Yorker. Though it dates to 1969, the stories still ring true today.
Disrupted: My Misadventure in the Start-Up Bubble, the story of a 50-something magazine writer who finds himself out of a job and decides to join tech start-up Hubspot. You'll be laughing out loud starting on the first page of this story "With a cast of characters that includes devilish angel investors, fad-chasing venture capitalists, entrepreneurs and 'wantrapreneurs,' bloggers and brogrammers, social climbers and sociopaths [that] is a gripping and definitive account of life in the (second) tech bubble."
I first mentioned Spoiled Brats by Simon Rich in 12 Summer Reads for All Small Business Needs, a tip post from this summer (which is another great resource for selecting business books), and I still think it contains one of the best business short-stories I've read recently. The collection begins with musings of a suffering family of hamsters stuck in a private school classroom, and ends with Death becoming a futureless untalented rock band. In the middle, you'll find "Sell Out" a true small business success story. The Amazon review calls it, "a collection of stories culled from the front lines of the millennial culture wars. Rife with failing rock bands, student loans, and participation trophies, Spoiled Brats is about a generation of narcissists-and the well-meaning boomers who made them that way."
What is your favorite small business holiday gift to give or receive? Let us know in the comments.
Sign up for Small Business Smarts to get more small business tips like this one, delivered directly to you.