By all accounts the 2015 holiday shopping season is off to a roaring start. According to Custora's tracking of real-time online transactions from over 200 US online retailers, E-commerce revenue was up 16.2% on Cyber Monday 2015 over Cyber Monday 2014, and for the full holiday weekend (Thanksgiving day – Cyber Monday), revenue grew 16.4% over 2014. The National Retail Federation (NRF) reported 151 million US shoppers over the holiday weekend, with 102 million people shopping in retail stores and over 103 million people shopping online (with many of the 151 million reporting shopping in both ways). The NRF survey further reported that the average per-person spend was $299.60 with $229.56 of that (76.6%) of that going towards gifts.
Of course, the shopping season isn't over so if your small business hasn't yet made its holiday sales goals there is definitely still time. (Check out my post The Small Business Guide to Holiday Sales and Promotions, for help if you're looking for strategies and ideas.)
Hopefully your holiday season (and your whole year) sales are going well enough that you can take some time to join the buying party and select the perfect gifts for everyone on your small business gift list. From employees, to customers, to vendors, service providers, investors, and promoters, the following collections will help you select something special, in any price range, for each and every one.
Sweet Treats
In honor of today being National Brownie Day (#NationalBrownieDay), let's start with some delicious sweet treats.
For brownies, check out The fudge report: The 8 best mail-order brownies (this post is from 2007, but just about all of the businesses mentioned are still operating and still selling those yummy brownies). Another great source is the Gourmet Brownies Review from the TopTen Reviews site. Not only does it give you detailed information about the product offerings from its top picks, you also get a comparison table that lists business gift options, shipping options, and pricing (which may be outdated).
Of course there is more to holiday treats than just brownies—cookies are one of my personal favorites, and you can never go wrong with chocolate–and gift baskets or towers that contain multiple types of treats are sure crowd-pleasers. The following are some of my go-to online picks for mail-order gifts, though supporting your local small business bakeries and chocolatiers is highly encouraged too.
Boston-based Dancing Deer Baking Co, offers a delicious selection of cookies, brownies, and cakes in a wide variety of holiday towers, baskets, and boxes. (Look for their holiday sales, the current code is typically shown on the home page.) However, to make the holiday extra special consider giving from their Sweet Home Collection. While not eligible for discounts, 35% of each Sweet Home purchase is donated to One Family Inc. scholarship programs to help homeless and at-risk parents further their education. The cookies and brownies are extra sweet with the knowledge that they are also helping a very worthy cause.
Even though it is not a small business, Cheryl's is a great source for business cookie and brownie gifts—especially if those gifts are to be shared by a large group, because the items in each gift are usually individually wrapped. Cheryl's is famous for its frosted buttercream cookies, and its brownies aren't bad either. Be sure to buy using the current coupon codes shown on the site homepage or here, and even wait for sale + free shipping offers, as regular prices are rather high.
NYC-based Li-Lac Chocolates is Manhattan's oldest chocolate house. It was founded in 1923 by a Greek immigrant trained in the French chocolate-making arts, and in the true small business tradition each of the 4 ownership changes passed the business to devoted employees and loyal customers. While you can't go wrong with any of the small-batch gourmet chocolate confections, the 21" 8 pound chocolate Jumbo Santa (shown) is sure to make a splash at your holiday party, the tiny snowmen make great stocking stuffers or party favors, and the Raspberry Truffles are award winners. (If you sign up for the newsletter, you'll get a coupon code for a free gift with your first purchase.)
Gifts for the Techie (from Wired Magazine)
My favorite place to start for technology related gifts is the Wired Gift Guide. In addition to the tech gifts (some quite geeky), the list also includes useful and stylish suggestions for business people of every stripe. While the
2015 Wish List
is a work in progress (check back throughout the month for new additions), the following items from the current list may be just what you need for that special IT guy or programmer in your life.
From the list of 20 Awesome Gifts for Around $20, Nanotips is sure to please that cold-weather smart phone user. Available in blue or black, and currently selling for $19.99 at Amazon, this liquid turns any pair of gloves into touchscreen gloves. Simply dot the fingertips, and your recipients' favorite pair of fancy leather gloves can now remain on as they use their phones and tablets outdoors.
From the 16 Travel-Friendly Gifts to Make Flying Less Miserable list, consider the Vector Cup Holder. This light and thin drink holder folds flat for travel, and clamps to your airplane tray table. It holds cups, mugs, and bottles leaving the tray itself free to hold your laptop or other items you'd rather not subject to potential spills. It's a bit pricy for a cup holder($50 at Amazon), but as Wired notes, "You'll feel silly when you first pull it out, and then superior when yours is the only dry lap left on the plane."
For additional ideas check out 11 Drones for All Types of Pilots, Headphones for 20 Different Types of People, and if you have a spare $50 – $250K to spare, 12 Futuristic Gifts for the Early Adopter in Your Life.
USB Drives
Whether a stocking stuffer, a Secret Santa Gift, or just a goof for that person who has everything, a novelty USB Flash drive can be an inexpensive, personal, and useful gift. The choices are as endless as your gift list, (a search for "novelty USB Drive" on Amazon returns almost 7600 results). The following are some of my personal favorites:
If you want a less fattening sweet treat, try a USB Chocolate bar, starting at $10.98 for 8 GB (up to 32GB available). If that's not to your taste, try a donut, a strawberry, or a biscuit.
A new twist on a locking USB drive, this 16MB Cryptex USB Flash Drive is stored inside a mechanical combination lock. It's a perfect gift for the throwback enthusiast who has grudgingly entered the digital age, but longs for the analog world. ($49.99 at Amazon.)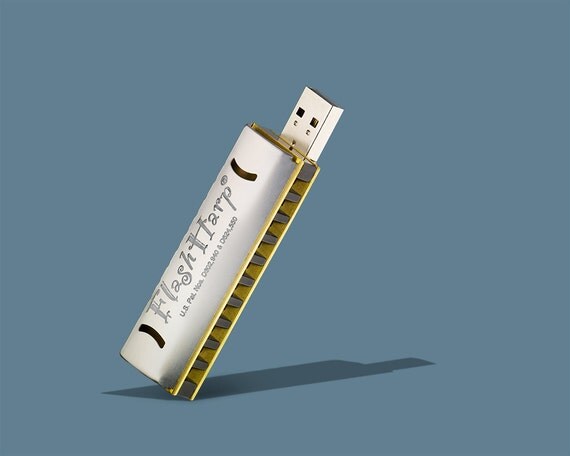 From Etsy seller BackyardBrand, the 8GB USB Drive with playable harmonica. This custom made "FlashHarp" is a unique ($39.95 + shipping) gift from a fellow small business owner.
Custom 3D printed USB Drive from formURlife. Pick a message (up to 10 characters), pick a style, color (or color set), and storage size (4-64MB) to design a completely custom USB drive. The online design tool lets you preview your creation before ordering. Prices range from $24.95-$59.95 depending on storage size. (Free shipping is offered through 12/12/15)
For the person who has everything from the person who has an unlimited budget, consider these USB Key Mushrooms from Swiss jeweler Shawish. Each 32GB drive is encased in a gold, diamond, pink sapphire, and/or ruby mushroom. Prices start at $32,000.
Business Books
A thoughtfully chosen book can be the perfect gift that gracefully merges the line of personal and business. Whether you're choosing for a budding business owner, a seasoned manager, or a serial entrepreneur, consider a choice from one of the following best of lists (which for the most part do not duplicate each other):
What is your favorite small business holiday gift to give or receive? Let us know in the comments.
Sign up for Small Business Smarts to get more small business tips like this one, delivered directly to you.