Americans are working from home significantly more often than in the past. According to the US Census bureau, 4.2 million people worked from home at least one day a week in 2010, a 35% increase from 1997. A more recent 2014 US Department of Labor survey found that 23% of all employed persons did some or all of their work at home, up from 19% in 2003. The same study found that 58% of self-employed persons did some or all of their work at home.
Not only are a significant number of people working from home, but employers also appear to be supporting it and encouraging it, because it is good for business. A recent global survey found that 82% of employers reported improvements in stress levels due to teleworking, 80% reported improved morale, 70% improved productivity, and 69% reduced absenteeism. The same study found that 80% of employees surveyed reported that their employer permits telecommuting, 50% reported telecommuting one day per week, and 22% telecommuted 5 or more days per week.
Finding the Space at Home
So, given that we are working from home increasingly often the question becomes where are we finding the space to do it? If you are simply a sometimes telecommuter, it probably isn't hard to find a free table upon which to set your laptop. But if you run a home-based small business, a more formal office with secure storage space, possibly room for an employee or two, and perhaps even a place to meet customers, is ideal. You want to choose something that fits your work-style and that will help you be productive, but you also don't want to take over the house—particularly if you're sharing it with a spouse and/or kids.
Where do you begin? From personal experience I'd suggest starting with comfort.
I am a frequent telecommuter and to support that I have a dedicated office with yards of desk space, multiple computers and printers, a large library, and lots of room for storage. It is a perfect set-up– except that I'm not really a sit at a desk type of person. I much prefer to curl up on the floor in front of a coffee table. There are times when I need the desk, but more often I just plop down on the bedroom floor and work productively for hours on end—wirelessly connecting to the Internet and printers.
How about you? Are you a take over the dining room table kind of person? Or perhaps you want a quiet dedicated space that lets you get away from it all (and helps you keeps the "all" away from your business operations).
Home Office Examples: Practical to Extreme
A recent Entrepreneur post, 4 Trends in Home-Office Design, provides some ideas for both space design and furniture selection. The following examples from around the web (and around the globe) provide ideas from across the home office spectrum including everything from practical and cool small-space offices, unique office furniture, and extreme workspaces.
Home office with an overhead library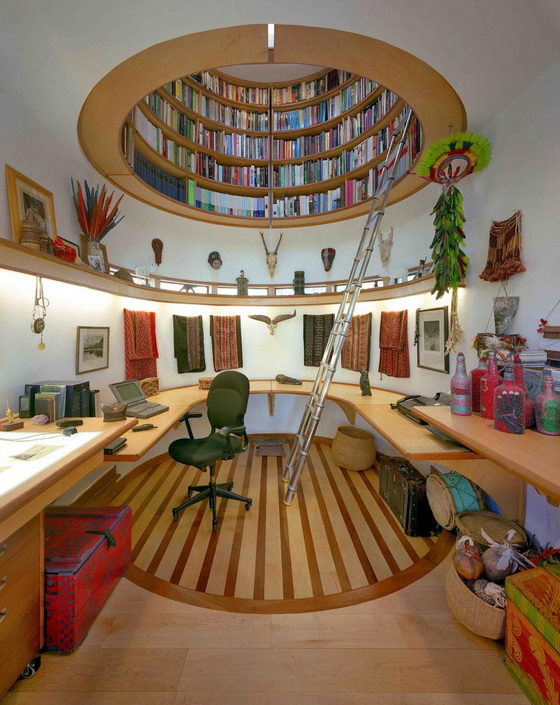 The Spacesaver, from Eclectic Small House Plan Packs a Big Punch
Two from Steampunk Home Office Design

The Skull Workstation, from 15 INCREDIBLE OUTDOOR OFFICE PODS

Synthesis Designs Chelsea workspace

Taking the Home-Based Business Leap
Did any of the above inspire you to give working at home a try? If so, and you're thinking of starting a home-based small business, be sure to check out the Small Business Administration (SBA) Home Based Business resource page. It provides questionnaires that will help you decide whether a home-based small business is right for you, help with starting-up if you decide to proceed, and help with ongoing small business operational concerns such as taxes and social security.