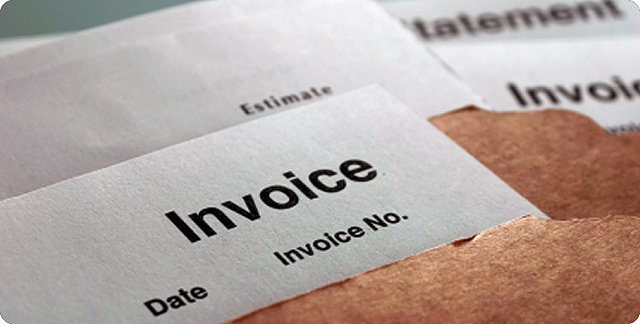 You've gotten a new customer to try your business and have provided them with your top-notch service or product.  Now all you need to do is collect your payment…easy, right?
Well, as it turns out, not always.
One of the biggest frustrations I hear from small business owners I work with each day is that they have problems getting a customer to pay on-time, which then leads to cash-flow problems because they can't pay a vendor, or start one of the many new projects they are interested in pursuing.  The numbers agree…according to the Bureau of Labor Statistics, 53% of small businesses rank cash flow as their top business challenge. In addition, a recent study by the National Federation of Independent Business, shows that the small business receivables cycle has grown 30% to 48 days over the last five years.
After a deeper dive, it usually turns out that the reason they struggle is because there isn't a solid system in place to send, manage, and track invoices. Oftentimes it's just pen and paper, or Excel spreadsheets, and in extreme cases, trying to keep everything organized in their head.
But there is an easier way! Here are a few tips on how to use an invoicing process to get paid faster.
ASSESS YOUR BACK-LOG OF OVERDUE INVOICES
Have you ever forgotten about an invoice you sent, allowing it to go unpaid…essentially forever?  By taking inventory of what invoices you have out there, following up on a schedule, and having clearer due dates listed on your invoices, you can speed up the timeline to pay and make the process easier for you and your customer.Many electronic invoicing systems can not only send the invoices, but also allow you to track their payment status and send an automatic reminder for you on the due date. This can help you to easily jump on those slow-pokes who wait until the last minute and free up your time so you can spend it doing what you want to do, instead of what you have to do.
USE AN INVOICE TEMPLATE TO HAVE CLEARER EXPECTATIONS
If you don't clearly lay out the details of the services you completed, the time-frame you are billing for, and the payment terms, you can't expect someone to pay. By using an invoice template, you can guarantee that each document you send out is professional, complete, and clearly worded. A life saver if you want to simplify the process.
GIVE YOUR CUSTOMERS MORE OPTIONS TO PAY
Not directly related to the invoice itself, but something that can help the payment process is offering more flexibility in HOW you accept payments. If you use an invoicing system that also allows customers to pay online, you remove one of the biggest roadblocks to getting paid on time. Instead of having to find their checkbook, stamps, and envelope, and then dropping you something in the mail, they can easily click from the invoice to pay online using a credit card or their bank account.
FOLLOW-UP EARLY AND OFTEN
How often do your customers claim to have lost the paper invoice you sent them? By setting up a schedule for sending invoices and reminders you can minimize the excuses for forgetting or losing an invoice. Sending an invoice at the point of service, 15 days after, and on the due date, you don't allow much chance for the invoice to get lost. Additionally, by invoicing electronically, with a touch of a button, you can resend, an invoice immediately if needed.
SPEED-UP THE DELIVERY OF INVOICES
Sending an invoice through the mail takes days. By the time your customer has received it, you and the service you provided are no longer on their mind, meaning they are less likely to make a timely payment. By providing an invoice at the point of service or using an electronic system to send immediately, or while you're on the phone with them can make a huge difference in keeping your company top of mind and your payments on the top of their to-do list.
It might take a little investment on your part in order to set an invoicing process for your business, but the long-term benefits of either moving to electronic invoicing, or establishing a solid billing process will not go unnoticed. Learn more ways to cut payment delays in our eBook, Your Ticket to On-Time Payments.
Image Credit: "Oops! It's time for your invoices": Sarah Johs