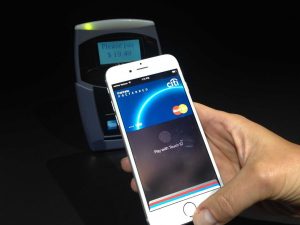 We all heard stories this week about how Apple Pay will change the way businesses accept payments, and many of us have already been paying for our coffee with a phone for a few years. But, what does it mean if your business isn't the size of Macy's or Whole Foods (two initial Apple Pay partners) — should you rush to get NFC? Should you be worried about losing business to the Apple Pay partners? Here are 4 ways you can get the benefits of the new product without the huge investment.
Allow Customers to Pay the Way They Want
Payments via NFC technology has grown to $8.2 billion, but only account for 2.5% of mobile payments.[1]  Apple Pay will be a great place for customers to store credit card information so they don't need to carry a card around, but won't offer things like online payments, recurring billing and payments plans, or accepting payment over the phone. Your customers want convenience and often that means more payment acceptance methods, not less.
Get Paid How You Want
Apple is developing a proprietary system with partnerships from the big card holders – MasterCard and Visa. If you have a more comprehensive system, you will be able to accept even more types of cards – Discover, Amex, and even echecks /ACH from one system instead of having to invest in multiple products. Additionally, fees can vary from card type to card type, so a more flexible systems allows you to guide your customers to pay you in the method you prefer, whether it's via a mobile swipe or through a direct deposit. 
Be Secure First
Identity theft and security breaches — These are concerns that might keep people from using credit cards– and something specifically addressed by Apple Pay's system. If cardholder data is stolen, you can be fined, so you need to keep control of your customer's information just like you control your personal credit card. If your customer has to write down their card number on a piece of paper for you to bill them, or you store information in excel (or some other homegrown system), you are doing them a disservice. Any payment processing system you implement should have a high-level of PCI compliance, and you should brush up on your skills annually to ensure you maintain a high level of security. This will make your customers more comfortable and protect your business.
…but Understand Your Customers More
There were a few specific comments about how customer data, like their name, will be hidden from the cashier. Though this is a security advantage, understanding your customer's spending habits and tying the customer back to their purchases can help you to personalize their experience and make your relationship stronger. If you see someone stopped coming back after a few years of patronage, you can send them a note or email to reengage.
We will all be watching ApplePay closely. While it has the potential to have a big impact on the industry,  you can make the payment experience stronger for your customers by implementing a secure, and comprehensive payment processing system.
[1] Gartner (May 2013)
Image Credit: How to Use Apple Pay, Business Insider